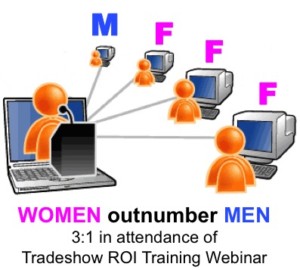 More women than men attend this all-inclusive exhibitor education and training webinar entitled "Get the MOST from PRE-DURING-POST trade show exhibiting" to learn effective exhibiting tactics and the webinar's proven formula for ROI (Return on Investment.)
After recently attending this webinar that is loaded with unprecedented statistics and immediately actionable content, Sallie Teal exhibit manager for Custom Metal Products said – "Today was a game changer for our company. I'm even more excited for our show this year."
It doesn't seem to matter what industry or trade show. The 3:1 female webinar attendance ratio varied only slightly among attendees from a Water show, a Food Processing show, a Manufacturing show, a Library show, and a Laboratory equipment show.
Women also request more copies of the FREE statistics that are presented, FREE active-learning templates that they can put to immediate use, FREE suggested questions that their booth staff should ask visitors to pre-qualify leads for productive follow-up, and they engage more in the 30-days of FREE telephone support that the presenter makes available to attendees who may have questions after the webinar, need a refresher or additional information.
The statistical number one reason for exhibiting today is sales lead generation. "Meaningful ROI comes from post-show lead follow-up and their conversion to sales." said experienced exhibitor and recognized industry expert Richard Erschik the webinar presenter. "It doesn't come from creative use of fabric and graphics, or the placement of padding under a carpet. Women know that the leads aren't getting the follow-up attention they deserve after their show, and they are eager to learn how they can fix-that-problem from which everyone wins."
While other trade show industry trainers tell exhibitors what they should do to be successful at trade show exhibiting, and why, Richard shows them how in a fast paced, content rich 60-75 minute experiential webinar that is typically sponsored and hosted by Associations, trade show owners and organizers for their exhibitors.
The PRE show segment of the webinar teaches exhibitors how to get more visitors to their booth using the names they already have. This also increases their numbers of leads and overall show attendance.
The DURING show segment of the webinar shows exhibitors some visitor complaints and the do's and don'ts of effective booth staffing, along with what qualifying questions they should be asking visitors. This gets the booth staff on the same page relative to their behavior and performance expectations.
The POST show segment of the webinar teaches exhibitors a DIY way to respond to their leads to assure 100% lead follow-up, and consequently the positive ROI they need to prove the show's cost-effectiveness and value.
Tradeshow owners and organizers that hire Mr. Erschik to conduct his webinar training for their exhibitors have a choice of 2 productive delivery options.
Two (of the same) webinar for the price of one — spaced and conducted weeks apart to accommodate their exhibitors that were not able to attend the first webinar due to their travel commitments and time availability.
One webinar and a booth layout consulting session, on the show floor during setup, to critique things like back wall graphic and samples display placement, furniture layout and traffic flow, to maximize visitor engagement. Richard's travel expense reimbursement to/from the show is required for this popular second option for newer exhibitors.
"We schedule Richard's webinar each year because it empowers our exhibitor managers to take total control of their show, including the results" – said Laurie Dougherty Executive Director of the ISAWWA and manager of their Association's annual trade show. "This year his booth layout critique option was very popular with our newer exhibitors."
Richard also provides his new show organizer customers with examples of promotional pieces and language they can clone to invite their exhibitors to his webinar. Either way, each webinar is custom branded throughout for the Organizer.
"Great job researching our Association and branding the webinars for us accordingly" said Julie Walter – Director of Events, DHI. "Our exhibitor's feedback after this webinar was refreshing."
Organizer's can invite Mr. Erschik in as a presenter on their webinar platform. Or, he can provide the Go-To-Webinar registration link to his platform for organizers to send to their exhibitors to sign-up.
For more information about this webinar and presenter reference; www.TradeshowLeadsToSales.com
Contact: Richard Erschik
E-mail: richard@tradeshowleadstosales.com
Phone/Text: 630-642-6500