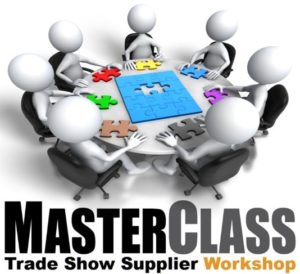 This Experiential Sales Education and Training Workshop Makes Sellers Smarter… "Going In."
For hosting it, your company also gets 3-years of FREE promotion to thousands of exhibitors. Read on…
For the past 10 years, I have been working exclusively thru trade show organizers, teaching their exhibitors how to assure 100% lead followup, and a positive Return On Investment (ROI) from trade show exhibiting. Organizer promotion examples.
Based on the success of that teaching, my exhibitor education and training program has been expanded to offer an on-location Workshop, to trade show industry supplier sales people, who are discovering that it's harder than ever to even 'get in' to present their products and services to exhibitors today.
Especially since the professional title of trade show 'Exhibit Manager' inside of exhibiting companies, has morphed into 'Marketing Assistant', Intern', Product Manager' and others who are either inexperienced, disconnected, or too busy to concentrate on the details of their company's trade show exhibiting objective. Even if you can save them money. It's all about "them personally" today.
During the past 3-decades, I have had more than 25,000 trade show exhibit manager types in my (350) seminars and webinars. What I learned is that before they need more "stuff," today's exhibitors need "solutions" to what they tell me are their 3 biggest challenges and problems relating to trade show exhibiting;
1. Poor booth traffic.
2. Poor lead follow-up.
3. Poor ROI.
So why don't industry supplier sales people learn the reasons for and solutions to these exhibitor problems, and "give-away" the solutions as a "value-added" during the presentation and sale of their stuff? Now they can, with what they learn in this experiential workshop that teaches them exactly how to do it, and make heroes of their customers inside their companies.
If trade show industry supplier sales people continue to just sell "stuff" to exhibitors, they better be ready for the mounting frustration of trying to reach their prospects for sales presentations today. Why? Because their buyers are hiding from the fact that they really don't know, and their fear of supplier sellers discovering what they don't know. (You may have to read that again.) And if/when supplier sellers do finally reach them, they better be ready to cut their price, because that's how exhibit properties and services are being bought today. On price!
The worst thing a trade show industry supplier seller can do today, is offer to conduct a needs-analysis for their customers. Why? Because most won't do it for fear they will get discovered for not knowing what sellers expect them to know. Therefore, the needs analysis pitch is history, and the solution selling pitch is the future.
For more than 30-years, I have been teaching exhibitors how to solve their 3 biggest problems (of poor booth traffic, poor lead follow-up and poor ROI) themselves. I make them heroes in their companies and they remember me for it. Just like they will remember the supplier that shows them how to solve their problems.
EXAMPLE: "I turned a $450,000.00 trade show investment into $4.5 million dollars in sales using the process you showed us." – Pat Galligan, Marketing Manager, Waukesha Cherry Burrell
The most important word in the above testimonial is the first word "I."
Richard's 3-4 hour experiential and active-learning workshop includes the following:
The reasons for the 3 exhibitor problems stated above.
Industry proven solutions to the 3 problems that he has been teaching exhibitors for 3+ decades.
How to use problem solving in your company's marketing messaging.
How to stop re-actively waiting for the phone to ring.
How to start pro-actively contacting prospects with a purpose.
Role-playing with your team members that shows them how to use problem solving skills as a differentiator to "get in" to make sales presentations.
How to conversationally bring up the 3 problems, along with their solutions with prospects in your face-to-face sales presentations to close NEW business.
The contents of a "Tool Kit" to give away to "customers" that shows them how they can solve the 3 problems, themselves. (Makes you a consultative sales person and them heroes.)
30-days of FREE telephone/email/text support if your team needs to contact Richard after the workshop for consulting, answers to specific questions, information, and/or guidance for a sales presentation they are making.
Your company will be listed for FREE, for 3-years, in the Recommended Supplier section of Richard's websites www.ExhibitorTrainingWebinar.com and www.TSEMA.org that are viewed by thousands of exhibitors. (This value alone totally offsets the investment in the workshop.)
Richard Erschik is the workshop facilitator. He has conducted more than 350 exhibitor seminars, webinars, and workshops. He has been a round-table moderator, FastTrak instructor, and featured speaker and presenter at the EXHIBITOR Show in Las Vegas for 18-years. He developed the workshop from the foundation and success of his popular exhibitor training webinar that trade show organizers around the world host for their exhibitors.
YOUR INVESTMENT in the 3-4 hour workshop, conducted at your location: $7,495.00 plus travel expense reimbursement.
CUSTOMER SATISFACTION GUARANTEE: $5,000.00 plus travel expense reimbursement up-front. If you don't agree the workshop was worth it, YOU DON'T HAVE TO PAY THE ($2,495) BALANCE.
Only one workshop is conducted per month. Phone/Text Richard at 630-642-6500 to schedule yours.