Trade Show Organizers Need to Focus on 3 Major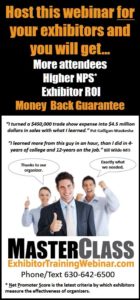 Objectives for Success.
1 – Getting more attendees in the aisles of their trade show, so their exhibitors get more visitors to their booth and leads from the show.
2 – Exhibitor ROI, so they exhibit again in the organizer's next show.
3 – Higher NPS*, so their exhibitors look at their show organizer as a partner, not a pilfer.
Show organizers that provide experiential training for their exhibitors accomplish all 3 of the above objectives and much more.
Let me explain.
Few show organizers know that 26% of their exhibitors are rarely trained, and 27% of exhibitors are never trained. Source: www.CEIR.org
And/or that their exhibiting companies' trade show managers spend less than 5 years in their job. Source: the Trade Show Exhibit Manager Academy www.TSEMA.org
Therefore, their exhibiting companies' trade show managers are simply repeating the outdated processes and mistakes of their predecessors, and consequently, their exhibitors are achieving less than satisfactory Return On Investment (ROI.)
No positive ROI forces exhibitors to drop out of the show, which forces the show organizer into panic mode to replace the dropouts. Sound familiar?
It's all a vicious circle that can be totally circumvented by education. And show organizers that provide (proper) education to their exhibitors are winning BIG.
Proper exhibitor education teaches exhibitors how to use the names they already have for pre-show promotion and invitation to their booth. Thereby, increasing overall show attendance, the number of visitors that exhibitors get to their booth, and the number of leads that exhibitors get from the show.
Proper exhibiter education teaches exhibitors the best practices used in sales lead response, which assures 100% lead follow up – from which they increase sales and generate the positive ROI they need to justify show cost. So certainly, exhibitors will come back to the next show to repeat their success.
Proper exhibitor education increases show organizers' NPS from which everyone wins!
* NPS (Net Promoter Score) measures customer experience and predicts resultant business growth.
A company named Explori www.Exploi.com teamed up with UFI www.UFI.org for in-depth research into the exhibition industry. Titled 'Global Exhibitor Insights' the study builds on the UFI/Explori Global Visitor Insights report released in November, 2017. https://www.ufi.org/wp-content/uploads/2017/11/UFI_Explori_Global_Exhib_Insights-2017-members.pdf
The new report, Global Exhibitor Insights, provides an overview of the experience and intentions of exhibitors at trade shows across the world. The research aims to give event and trade show organizers a deeper understanding of the patterns and trends that drive positive and negative exhibitor experiences and the objectives and behaviors that underlie them.
Key findings from the report…
Only 25% of trade shows have a positive Net Promoter Score (NPS.) Globally, exhibitors rate the exhibitions they attend with a negative average NPS of -17 (that's minus 17.) 25 per cent of shows have an NPS of less than -36 (that's minus 36.)
Shows with higher exhibitor NPS are more likely to experience growth. 71% of shows with positive NPS are experiencing growth in exhibitor numbers whereas only 32% of shows with negative exhibitor NPS do. In addition, more than twice as many high NPS shows are experiencing notable revenue growth when compared to low NPS shows.
Trade shows that offered (and provided) exhibitor training for their exhibitors; saw a 23 point boost in NPS vs. shows that did not.
In summary, why should trade show organizers offer and provide training for their exhibitors?
The short answer is, because no one else is.
The longer answer is, because there are no formal academic courses that teach trade show exhibiting. And that poor ROI and low exhibitor satisfaction, even at shows with very high visitor numbers, is an issue that can be addressed with exhibitor training.
Indeed, exhibitor training counters poor exhibitor performance.
About the author.
Richard Erschik was a successful exhibitor in a major USA industry for 2 decades. Today, he nurtures a passion to teach exhibit managers the short cuts to trade show success that he learned the hard way. He is recognized as the highest rated exhibitor educator and trainers in the world. He works with global trade show organizers to help their exhibitors achieve the ROI they need from trade show exhibiting. He has been a Roundtable moderator, FastTrak instructor, and featured speaker and presenter at the EXHIBITOR Show in Las Vegas for 18-years.
www.ExhibitorTrainingWebinar.com
Richard@ExhibitorTrainingWebinar.com
Phone/Text 630-642-6500